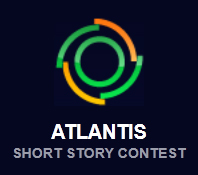 "I don't believe you have to be better than everybody else.
I believe you have to be better than you ever thought you could be." -Ken Venturi
This weeks Motivational Monday! post is for anyone that fancies a challenge! Because this weeks featured competition closes in two days, on the 30th of November.
So this week we're featuring The
Atlantis Short Story Contest!
This competition is for an original short story up to 2,500 words long. There is no set theme or genre so any is accepted.
First place will recieve $300, Second place will recieve $100 and Third place will recieve $50.
The top 15 stories will also recieve an in-depth review and the top 40 will be listed on the website as finalists and will recieve a certificate.
The closing date for this one is the 30th of November so if you want to enter you'll need to get writing or polishing fast!
Please remember to check the website for formatting guidelines and more information.
To read the rules, find out more and to enter please visit
Atlantis Short Story Contest.

Happy writing


Rach x